EDIT MAIN
Welcome to Wilcox Central Chorus
http://www.youtube.com/watch?v=Aa-QRxYkGAk&feature=related
The Chorus Department at Wilcox Central High School has a variety of ensembles to meet the musical abilities of all students:
Chorus I - Beginners
Chorus II - 10th and 11th grade
Chorus IV - 11th and 12th grade who have had Chorus II & III
Ensemble - Audition only. The ensemble is a mixed ensemble for the advanced choral student who have attained a certain level of sight-reading and vocal proficiency. The choral ensemble performs for local, and regional events.
Extra rehearsals are conducted on Wednesdays from 3:30 pm - 4:30 pm. Students involved in any of the ensembles offered, here at Wilcox Central, MUST attend all rehearsals.
Wilcox Central High School Chorus has performed at the Alabama National Fair, Montgomery Alabama, The Leadership Conference,Troy University, Troy Alabamaand many local and regional events.
WILCOX CENTRAL HIGH SCHOOL ALMA MATER
We are striving day by day to conquer,
the problems that youth will meet.
We are strong and brave and boast of courage ,
And thy name we will loudly repeat.
Dear Wilcox Central, Dear Wilcox Central,
For thee alone we live, love and honor.
Dear Wilcox Central, Dear Wilcox Central,
Forever the glory we'll gain.
We are sons and daughters of tomorrow,
And forever we'll look to thee with pride,
You will always be a standing haven,
In our hearts you will always abide.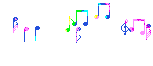 Wilcox Central High School Choir Officers 2018– 2019
President – Javion Mack
Vice President - Takelia Walker
Secretary - Dishekquia Walker
Treasurer - Anya Sigler
Parlimentarian - Makayla Yelder
Chaplin - Devon Tucker
Reporter - Ronesha Stallworth
Ms. Choir - Makayla Yelder
Mr. Choir - Devon Tucker
"I make writing as much a part of my life as I do eating or listening to music."

-Maya Angelou, 1999