EDIT MAIN
Welcome to Wilcox Central Marching Jaguars

http://www.youtube.com/watch?v=k26MJFGNzVM&feature=related
Program Information
Known as the Pride & Joy of the Black Belt, the Wilcox Central High School Band is known throughout the area as a quality group of dedicated musicians. Led by Highly Qualitified Band Directors, the marching band supports the Mighty Jaguars football team by playing during pep rallies and all home and away games. The concert and symphonic bands compete in district and state competitions; the jazz band frequently performs for school and community events. Our band is show within a show. Check them out!
Uniform Etiquette:
Uniforms are to be worn properly or not at all.
Jewelry and watches are not to be visible while in uniform. Studs in pierced ears are acceptable.
Clothing worn under the uniform is not to be visible.
Shoes and gloves should be clean and white.
White shoes should be worn with white socks, black shoes with black socks. No exceptions.
No hats are to be worn with the uniform other than the official shako and plume.
Show shirts or band shirts are considered casual uniforms when worn as a group.
Use a seat cushion to protect the white uniform pants whenever possible.
When getting or putting away plumes, the metal tab is the last thing in or out of the plume tube.
Uniforms should be hung properly on a wooden or plastic hanger when not being worn. Hanger should have the student's name and the various uniform numbers written in plain view.
Bus Rules:
Everyone must stay in a seat and face forward.
No yelling or loud talking.
Radios and CD players must have headphones.
Food and drink are usually allowed as long as trash is picked up. No glass bottles are allowed.
No switching buses.
Couples must sit in the first five seats of the bus.
No flashlights or flash photography at night.
No dressing or undressing on the bus. Changing facilities or restrooms are usually available when needed.
Bus drivers, chaperones, staff, and student leaders are to be minded absolutely
http://www.youtube.com/watch?v=gEzYlB9Lf1I&feature=related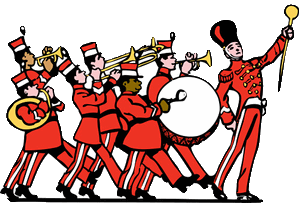 http://www.youtube.com/watch?v=FMKK0fFJ4fc